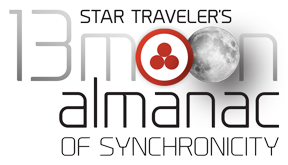 ORDER NOW!
Year of the White Planetary Wizard
7-26-2015 to 7-25-2016


The STAR TRAVELER'S 13 MOON ALMANAC OF SYNCHRONICITY is a gift from the stars; a gift of galactic culture; a gift from the supermental cosmic civilizations of the future. It is not what it appears, but is the key to the doorway into a vast new realm of multidimensional experience... 13 Moons of 28 Days: galactic standard (T)ime = ART.
Print Price: $24.95 + s&h
eBook Price: $20.00
Order Now!
Size: 8" x 10" (20.3 cm x 25.4 cm)
312 pages. Full-color interior. Quality paperback.
Very special thanks to Ruben Llinas Kin 113 and Nickki Lee Hill Kin 227 for their selfless and
steadfast work in making this Almanac as carefully thought-out and lovingly realized as it is!
Price: $24.95

The Star Traveler's 13 Moon Almanac of Synchronicity - available Only at Lawoftime.org - is a print-on-demand title, meaning books are printed at time of purchase, so please plan for an additional 5 days of shipping time.



If you are unable to make an online order, contact us at:
Foundation for the Law of Time
PO Box 156.
Ashland, OR 97520
USA
Please send payments in US Currency only.
tel: 541.488.0714 | info@lawoftime.org