Welcome Star Traveler's to the synchronic reading room! Once again we're here examining the Seven Mystic Moons. This Mystic Moon is especially synchronic as it is the fourth of the seven.
As you may well know 4:7::7:13 is a fundamental formulation of the Law of Time, a principle that exists throughout the synchronic order. This Moon embodies the 4:7 ratio, the exact center of the sequence of seven.
Seven itself being the center of thirteen, since we are in the Seven Mystic Moons, the fourth moon in some ways is like the center of the center!
To recap: Each of Seven Mystic Moons takes on the power of each of the Seven Days of Creation. In Moons 1-3 we established Resonant Spirit ("In the beginning was the word", "RANG", "Aum", etc.), Galactic Abundance (the formation of the myriad galaxies) and Solar Flowering (life as a cosmic-solar function).
This Moon, the Planetary Moon corresponds to the power of Planetary Life Force:
Kin 205, Red Planetary Serpent


"I perfect in order to survive
Producing instinct
I seal the store of life force
With the planetary tone of manifestation
I am guided by the power of space"
Book of the Avatar describes the fourth day of creation as the "liberation of 6-D light codes into full spectrum of 64 DNA Code/UR Rune permutations in proto psi bank."
Heptad Paths and Codons for the Red Planetary Serpent Moon
In the Planetary Moon each of the four heptad paths engage the electrical stabilizing meridians of primal light and heat within the Galactic Superstructure/Hunab Ku 21 Galactic Tree of Life and Knowledge.
Heptad 37: Art Stabilizes Meditation - Codon 6: People Apart, Tree Defines Life
Heptad 38: Meditation Stabilizes Vision - Codon 64: Prepared, Galactic Octave Unifies the Dimensions
Heptad 39: Purification Stabilizes Enlightenment - Codon 40: Heart's Release, Cosmic Order Returns to Heart of Earth
Heptad40: Enlightenment Stabilizes Timelessness - Codon 48: Reaching the Source, Architectonics Releases Order of Whole (Same Codon as final Codon of 2013)
Click here to download the Planetary Moon from this year's Star Traveler's 13 Moon Almanac of Synchronicity.
Dali 1 - Kin 51, Blue Crystal Monkey (4 Apr)
Galactic activation portal and galactic signature of Madame Blavatsky.
Gamma 3 - Kin 53, Red Magnetic Skywalker (6 Apr)
Today is the galactic signature of Quetzalcoatl (1 Reed / 1 Skywalker) and begins the 52-day White Northern Castle of Crossing: Court of Death/Refine Warrior). This cycle ends on Kin 104, Spectral 26/May 27.
Today also begins the 13-day Skywalker Wavespell of Space. (Ends on Kin 65, Planetary 15/April 18). Note that this wavespell, sacred to Quetzalcoatl, ends on Red Cosmic Serpent (13 Serpent), just as Quetzalcoatl was said to have departed upon a "raft of 13 serpents" ...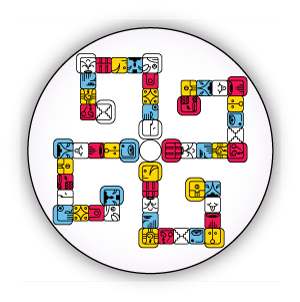 "… the Castle of Crossing rises white, austere, majestic beyond belief. To complete its ice age journey, Timeship Earth now had to travel to galactic north, and there construct the Castle of Crossing. To prepare for the crossing, Skywalker came first to cast the fifth wavespell of space unbound, where all the kin are free to explore" –Dreamspell Genesis
Kali 4 - Kin 54, White Lunar Wizard (7 Apr)
Today is the last day of the 65-day White Dog Season of Love, White Galactic Spectrum:
Alpha 5 - Kin 55, Blue Electric Eagle (8 Apr)
Today begins the 65-day Blue Eagle Season of Vision, Blue Galactic Spectrum (Ends on Kin 119, Crystal 13/June 11). Today is also the final day of the third 36-day cycle of Cubing the Earth (left side).
Limi 6 - Kin 56, Yellow Self-Existing Warrior (9 Apr)
Today begins the fourth 36-day cycle of Cubing the Earth: back side of the cube. This cycle ends on Kin 91, Spectral 13/May 14)
Seli 9 - Kin 59, Blue Resonant Storm (12 Apr)
Today is the same galactic signature as the first day of this 13 Moon year! This means we have completed one 260-kin galactic spin this year! Today also begins a new 20-day Vinal meditation: "Receives the light of one who knows"
Seli 16 - Kin 66, White Magnetic Worldbridger (19 Apr)
Today begins the 13-day Worldbridger Wavespell, Power of Death (Ends on Kin 78, Planetary 28/May 1).
Then arrived Worldbridger, the deathless one, casting the wavespell that crosses all from death to the enchanted realm. . –Dreamspell Genesis
Alpha 19 - Kin 69, Red Self-Existing Moon (22 Apr)
Galactic Activation Portal day. Defining the flow of universal water ….
Dali 22 - Kin 72, Yellow Resonant Human (25 Apr)
Galactic Activation Portal, Full Moon and Penumbral Lunar Eclipse. This eclipse will be visible throughout most of Africa, Europe, Asia and Australia. Visibility Map.
Kali 25 - Kin 75, Blue Planetary Eagle (28 Apr)
Magic Turtle Day! Today Saturn is at its closest approach to Earth - good time to view Saturn - and to meditate upon it!
Silio 28 - Kin 78, White Cosmic Mirror (1 May)
Beltain/Samhain + Globally Synchronized Rainbow Bridge Meditation day!